Washington DC Tour Guide is a local tour guide company specializing in providing individuals, groups, and families who are visiting Washington DC, and are looking for a unique and more personal sightseeing experience. We are a local and licensed Washington DC tour guide, offering knowledgeable private guided tours in DC. We also provide the motorcoach bus and tour operator industry with step-on guide services.
Private Sightseeing Tours. Washington DC Tour Guide sightseeing private tours are the ideal way to see the city with a professional licensed guide who will make the most of your time. Our tour guide will escort and accompany you to each of sites (off and on the private van) as well as give you background/facts information on all the monuments & memorials. We can design an itinerary that meets your group's interests (history, mystery, sports -it's up to you.) We are happy to coordinate a private tour for your church or school group, seniors, family reunions, conventions, and more. Catch all of the attractions that Washington DC has to offer. This private guided tour is recommended and available to individuals, families, and small groups up to 14 people.
Step-On Guide Services. We offer professional tour guide services to groups and individuals who are visiting Washington, D.C. and Baltimore and need step-on guide services. For example, if your bus group is already in town and is looking for a local sightseeing guide, we can provide one to board the bus and conduct a guided tour. Our sightseeing tours in Washington, D.C. are conducted by licensed tour guides.
Testimonials - View the rest

Language Translation Service We provide foreign language speaking tour guide services in Washington DC. Let us know what language you prefer for your sightseeing tour, and we will be happy to accommodate you and your group. Guided Foreign Language Tours available in the following languages:
English, Portuguese, Spanish, French, and Italian. Other languages are also available by request.
Why Hire a professional licensed Washington DC Tour Guide?
Get more intimate and in depth knowledge of the historic sights in Washington DC with your own personal guide.
Hassle free parking, make reservation, arrange for tickets.
We provide a local tour guide who speaks your language.
We provide meet & greet Portuguese speaking tour guide services in Washington DC.
You need help with the tour planning and all the logistics for a successful Washington DC tour.
We pride our selves on having the most comprehensive guided tour in Washington DC.
Satisfaction Guaranteed or Your Money Back.
Washington DC Tour Guide is a proud member of:

Baltimore Tourism Association
Baltimore Area Convention and Visitor Association
Washington Convention and Visitor Association
American Bus Association
Washington DC's Best Tour Value
Washington DC Private Sightseeing tours with a professional licensed guide. These fun & entertaining tours will take you through the most visited attractions around the city. Includes transportation, tour guide, courtesy hotel pick-up, and a custom DC tour itinerary.
Washington DC pet-friendly tours.
Washington DC kids friendly tours.
Get your free quote today!
---
10% Senior Discount.
10% Military Discount.
10% AAA Member Discount.
10% Travel Agent Discount.
---
Arlington National Cemetery & Mount Vernon Tours
---
Call 410-453-6623 for more details. Advance reservations are required. Get a quote.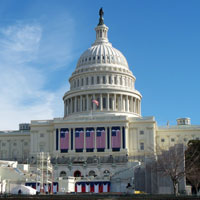 U.S. Capitol